In the modern world, there is no person who does not know what the face cleansing in a salon is. Someone goes to this procedure once a month, someone once a year, and someone just knows about its existence, but still did not dare to come to visit a cosmetologist for cleansing. In order to tell you all about the face cleansing, we will try to rely on the frequently asked questions of our dear clients. They were also afraid to come to this procedure, but after seeing a brilliant result, they threw away all doubts and became our regular guests at the Holy Land clinic!
– What types of cleansings exist and what kind of facial cleansing is better to do?
– The cosmetology is one of the fastest growing industries. The most popular facial cleansing procedure developed together with it. You can find such types of cleansing as:
Ultrasound cleansing
Mechanical or manual cleansing
Combined cleansing
Vacuum cleansing
Atraumatic cleansing
Laser cleansing
Chemical cleansing
We will describe each type of cleansing in short and note the differences between our method of deep facial cleansing and the others.
Ultrasound cleansing – means surface cleansing of the skin from dead cells and contaminations due to ultrasound vibrations and keratolytic gel for ultrasound cleansing of the face. Why you should not expect a miracle from this type of cleansing? Comedones, deep inflammatory elements and miliums remain in place, and the effect can be compared to the usual thorough cleansing at home.
Mechanical or manual skin cleansing is the most effective and popular cleansing that cleanses the skin of all visible and invisible elements. Thanks to this type of cleansing, you can suspend inflammatory processes in the skin for a long time, eliminate comedones, miliums, deep-seated and «sleeping» elements. This type of cleansing is ideal for those who regularly appear inflammatory elements, and the skin needs a full-fledged cleansing of the pores from black dots.
Combined cleansing is the most common and effective type of skin cleansing, which involves 2 or more methods of deep skin cleansing. It can combine hardware cleansing of the face and manual, chemical cleansing and vacuum, and so on. It is good because the two methods complement each other and the skin is cleansed at a deep level.
Vacuum cleansing – cleansing with a special nozzle with negative pressure inside, which «absorbs» dead epithelial cells and comedones. Knowing the anatomical structure of the skin and blood vessels, you can understand how harmful this technique is for people who have sensitive skin. Not to mention about people who have a tendency to manifest vascular network. In short – it is a very traumatic and selectively effective procedure.
Atraumatic facial cleansing – if you could call in one word the most favorite cleansing of all, it would have this name. Why? Because it's completely painless, whatever it is…a peaceful procedure that does not have skin-penetrating actions in its protocol. And the face after atraumatic cleansing looks very fresh, shiny and cleaned «to a squeak». With all the advantages, there is a small «but» – cleansing is suitable for owners of normal and combination skin without obvious problems. Well, if you still want to be the owner of this type of the skin, atraumatic cleansing can be repeated with an intensive course 1 time in 2 weeks.
Laser cleansing – from the title it can already be assumed that this method of cleansing will be carried out using a laser device with a specially tuned ray of the necessary intensity. Using the high temperature of the ray, live cells are cleaned from the dead cells(corneocytes), which leads to minimizing the painful sensations during the procedure. A higher laser intensity is used for skin resurfacing from post-acne scars and marks.
Chemical cleansing – cleansing the skin by applying a special chemical solution to the skin that breaks the connection between dead and live skin cells. Due to the low-molecular composition of the solution, it penetrates deeply, followed by peeling of the skin and rejection of dead cells. Most often, this method is combined with hardware or mechanical cleansing of the face.
As to question of the most effective facial cleansing – everything is strictly individual and each method waits in the wings only after careful consultation with a specialist who can provide a document about the education in the field of esthetic medicine.
– What types of the face cleansing are offered at the Holy Land clinic?
– Due to the fact that the professional care cosmetics Holy Land has a wide range of effects on any type of skin, any problem and age, our specialists can create an absolutely individual cleansing procedure for the client. There is sensitivity and couperose, but there is a need to clean from blackheads, acne and comedones? We can help without hurting the fragile vessels. What is about face cleansing during pregnancy and lactation? We are happy to help women who are in this wonderful position. The main rule is to be as honest as possible and not hide the truth from the cosmetologist, who is based on individual patient data when developing a treatment.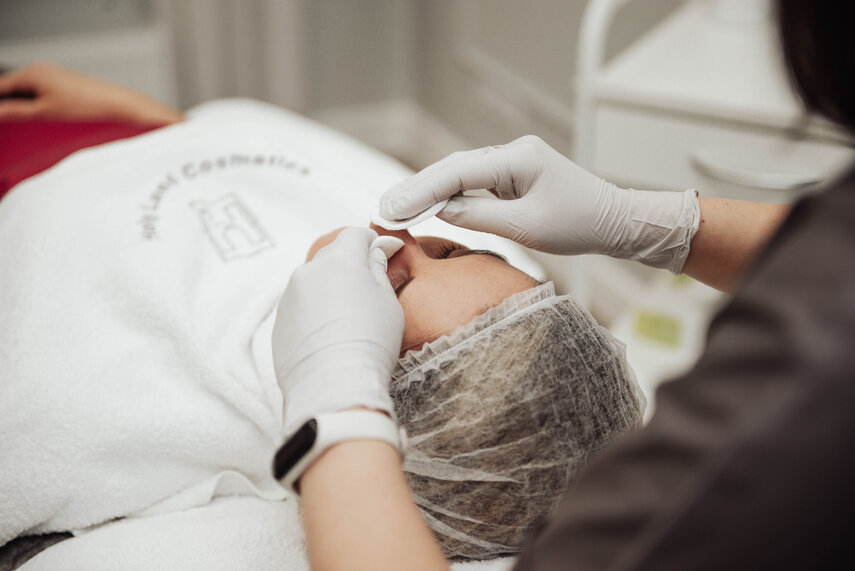 We provide:
deep face cleansing by mechanical method – so-called 10-stage face cleansing on Holy Land cosmetics;
atraumatic face cleansing – a more gentle method of cleansing without visible redness of the skin.
– What about the pregnant women, if it is necessary to peel and clean your face?
– As has been said, Holy Land is rich in cosmetic series on any issue as to the esthetic of the skin. Of course, expectant and nursing mothers also want to look great, so in our clinic you can safely do the procedure of atraumatic facial cleansing without using retinol preparations. Enzyme and fermentation facial cleansing are perfect and most effective for hyperkeratosis or blackheads on the nose, chin and forehead.
– How long does the facial cleansing procedure take?
– It takes about 1.5 – 2 hours, because a full-fledged facial cleansing in our clinic usually involves a combined method (peeling + manual technique).
– At what age can I start cleaning?
– This question is also very individual, but the answer is universal-when there is a need. This necessity appears with increased sebum secretion, that is, during adolescence. We have a facial cleansing procedure for teenagers that involves the same protocol as when acne cleansing. This is a deep mechanical cleansing with heating of skin tissues and later extraction of comedones from the ducts of the sebaceous gland.
– Is there a face cleansing for men?
– Of course! This is one of the most popular procedures in our clinic! Stress, poor ecology, sports, unhealthy diet and lack of proper home care leave a big mark on men's skin in the form of hyperkeratosis, clogged and enlarged pores. Monthly cleansing of men's skin eliminates these problems and normalizes the internal functions of the skin.
– Why do I need to clean my face at the Holy Land clinic?
– To answer this question, you just need to list the following facts about us:
high-quality and original Israeli cosmetics
personalized procedures only on Holy Land cosmetics
qualified and experienced specialists
individual and free consultation in any procedure
selection of effective home care
If you choose quality and competent care, you choose us!